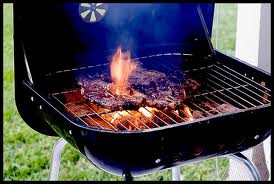 Break Out The Grills!
Labor Day is Almost Here!
Holidays and social gatherings tend to bring out the lurking garbage that is waiting to throw you off the path to your fitness goals.  We know it's hard to be perfect, so we looked into some healthy grilling alternatives that may save you a few calories!
Mediterranean Portobello Burger
Grilled Tuna with Olive Relish
Pork Chops with Peach BBQ Sauce
And for the sweet tooth!
Remember moderation is the key to your success!  Even healthy snacking in abundance can keep you from your goals.
Looking for something to do this weekend?  Check out some of these local events!
Long Beach Blues Bash – September 4th
Yelp OC's Bougie Wine Bus Hooky Day – September 3rd
Orange County Street Fair – September 3rd-6th
Disney Half Marathon – September 5th
Pacific Festival – Costa Mesa – September 4th
Walking with the Dinosaurs – September 1st-5th