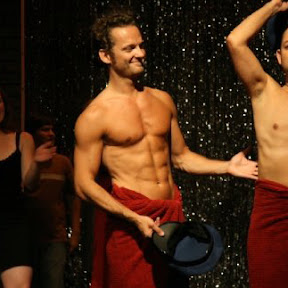 How many hours are you on the computer?
I live in Irvine and met Corey Beasley, owner of Innovative Results, at a business networking event. Coincidentally we lived in the same neighborhood.
I am a graphic designer and typically spend 6-12 hours per day in front of the computer. I had just finished up a 3 month boot camp that got me in cardio shape, but now I wanted to build muscle because I was just cast in a musical called the "Full Monty" .  If you know the story, you'd realize that I would be spending much of my time in a pair of boxers. That alone is a pretty good motivation to get the the gym, but I only had 3 months to develop a show stopping physique! Corey and I were up to the challenge!
In addition to pushing me 5 days a week in the gym, Corey also instructed me on how to eat properly for my specific goals and monitored my diet.  For the first time in my life I didn't resist going to the gym, in fact, it became the highlight of my day, 5 days a week! When you put in that type of effort, the diet comes naturally because you want to do everything you can to support your hard work and achieve the results
3 months later, by the time the show opened, I was looking better than ever had and the audience response was most flattering.  I added close to 15 pounds of new muscle and developed a killer, attention getting six pack. This was not only good for my show, but also helped by the pool all summer long.
It has been a year now and i continue to train 5 days a week and I continue to achieve goals and enjoy the process!  I can't wait to see what happens this year!
Do you want a six pack?
If so, give us a call.
We can make it happen!
Become a fan on Facebook, or join us at the Orange County Fitness Playground!