These days over 50% of American's food budget is spent on dining out.  The majority of those dollars are spent at fast food restaurants.  As America gets heavier and less healthy, restaurants steer their marketing toward creating healthier menu items, but are they really healthier?
Recently, KFC released their grilled menu items as a healthier alternative to their fried chicken.  Is it really healthy?  The truth may surprise you.  Check out this article.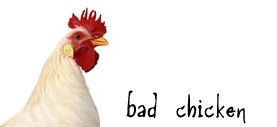 Finding healthy foods has become increasingly difficult.  Our advise is to stick to the basics:  If it occurs naturally, eat it.  The more man touches it, run!  Avoid fried foods, sugary drinks/sodas and tons of starchy foods (breads, potatoes, etc).
The majority of your foods should consist of vegetables, healthy proteins, good fats, fruits and other naturally occurring foods.
Here are a couple tools that may help you make better choices:
Remember, its not all about fad, drastic diets and going without.  Its about making continuous improvements to your eating habits and learning how to incorporate better choices into your crazy schedule.
Do you have more healthy eating tips?
We would love to hear about em..leave us a comment
Become a fan on Facebook!
Need some accountability in your nutrition plan, and workout routine?  Fill out the form below and a member of our IR Training Team will give you a call!